Twin-Screw Slurry Mixing System
Twin-Screw Slurry Mixing System adopts modular twin-screw structure, integrating conveying, mixing, dispersing and exhausting in one, which can realize continuous material processing and continuous discharging, and ensure free function matching to meet the demand of different working conditions to lower cost and energy loss caused by single function.

Metal-free and dust-free production

Precise dosing and conveying

Stable mixing and high quality slurry

On-line viscosity test with patented defoaming technology

Automated production and data traceable

Visual management and system monitoring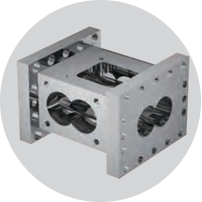 The vessels adopts nested modular structure. Among them, the outer vessel is set up with multi-channel cooling for precise temperature control and the inner vessel is made of high wear-resistant and corrosion-resistant material, which can reduce magnetic contamination and lower the cost of manufacture and maintenance, making it easy to install and replace.
01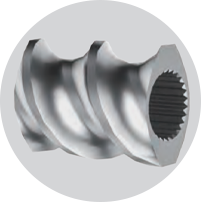 The screw adopts modular structure. Screw and the threaded block are linked by involute splines for precise positioning, stable structure and reliable transmission.
02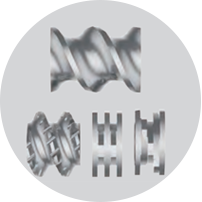 Using a variety of sizes of threaded blocks to bring fast kneading and dispersing. It realizes conveying, mixing and dispersing battery slurry on a set of twin screws to achieve optimal materials processing.
03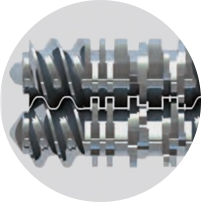 By adopting the same direction kneading twin screw, the material is subjected to roller pressure and gradient reverse speed, which forms a 8-channel conveying. Screw floats up, avoiding the friction between the screw and the vessel wall so that the material is evenly mixed and dispersed; conjugate screws offer good self-cleaning function.
04
A well-known group lithium battery company engineering case in Henan
Henan ** new energy co., LTD. is specialized in high-performance chargeable battery materials R&D, production and sales, and it is deputy director of China chemical and physical power industry association with state-level enterprise technology center, postdoctoral research station, provincial efficient chargeable battery materials engineering technology research center, and other high level research and development platform.