Cathode Material Production System
ONGOAL has rich design experience in production of cathode material, and provides one-stop solution including unpacking, feeding, pneumatic conveying, metering &batching, crushing & coating, blending,screening and demagnetization, mixing and packaging etc.

Airtight feeding without dust

Reduce labor intensity of workers

Process traceability

Anti-blocking pipe function for long distance conveying

High automation level, low labour intensity

Visual management and system monitoring
Annual output of 20,000 tons lithium ion battery anode material project
Hunan **** New Energy Technology Co., Ltd. has an annual production capacity of 13kt of high performance carbon anode materials and 7kt of high capacity silicon-carbon anode materials for lithium-ion batteries. The project has a planning area of 78666 square meters (including 33330 square meters in the early stage), a construction area of 35,474 square meters and a total project investment of RMB 500 million yuan.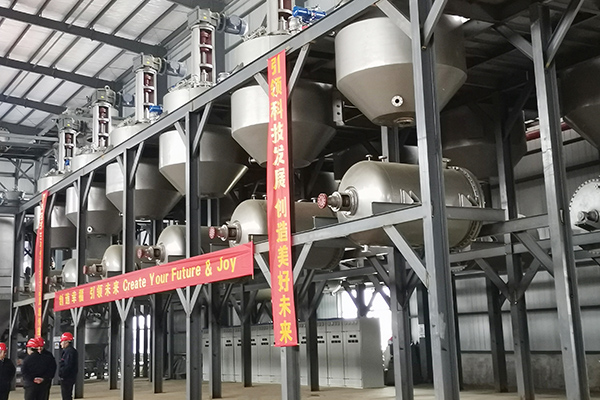 TOP3 lithium battery anode material enterprise project in Inner Mongolia
** Co., Ltd., founded in 1989 by Zheng ** in Ningbo, Zhejiang Province. In the past 30 years, ** has developed steadily from a single garment business to a diversified industrial cluster integrating new energy technology, fashion clothing, medical and health care, film and television, trade and logistics, tourism and leisure, financial investment and other industries. ** has been listed among China's Top 500 companies for 18 consecutive years since 2002, and ranked 369th in 2019 with sales of RMB 46.4 billion yuan.